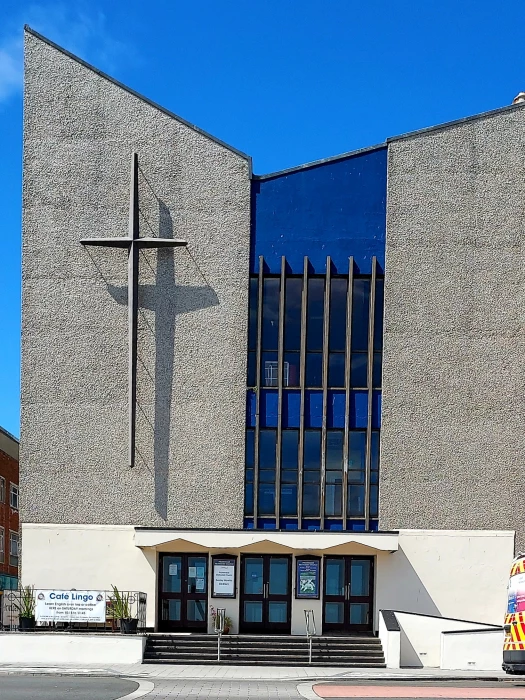 Promenade Methodist Church enjoys a prominent position on the Douglas sea front, in the middle of Loch Promenade. The present building opened in 1976, replacing the old Loch Parade Methodist Church and the Victoria Street Methodist Church.
Our Sunday morning Services are at 10.30 a.m. Hymns and readings are projected onto a large screen, but printed material is also available. The Service is also streamed live on Zoom for those who wish to attend but are unable to in person.
The congregation live mainly in Douglas and Onchan but a number travel in from further afield. We also welcome friends old and new who are visiting the Island on holiday, particularly during the summer.
We have two Ministers looking after the Prom (and Trinity) – Rev Dr Janet Corlett and Rev Richard Hooton, who works part-time. Rev Corlett is also District Chair/Superintendent Minister for the Methodist Church on the Isle of Man.
As well as being a place of worship, we wish to serve the community. For example, at Café Lingo people whose first language is not English come together on Saturday mornings for help with learning English and learning about life on the Island in a relaxed way over a cuppa.
In addition to the Sanctuary on the ground floor, we have a large hall on the second floor, two rooms and a kitchen on the first floor, and a medium-sized hall with rooms off it in the basement. The building has ramp access, a lift to upper floors, and disabled toilet facilities. Because of its location and facilities the building is used by a variety of community groups and organisations during the week e.g Alcoholics Anonymous, Citizens Advice, Weightwatchers, dance and theatre groups, business groups, etc.. We are also the home of the One World Centre (Isle of Man) and the Manx Methodist Historical Society.
Rooms in the Promenade Church are available for hire at a reasonable rate. For further details, please see our PromSpace Facebook page, or contact our Lettings Secretary, Mrs Audrey Riley, on 675569.
Details of our upcoming services can be found above (CP = service arranged and led by members of the congregation).