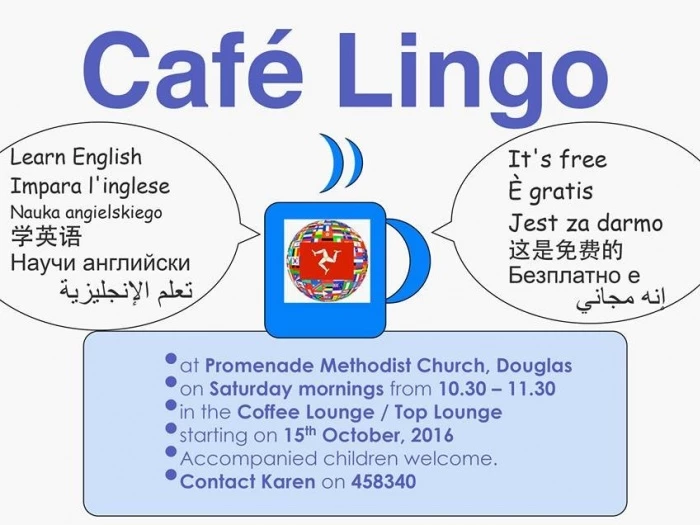 Cafe Lingo (Isle of Man)
The concept of Cafe Lingo arose out of a joint meeting between Promenade Methodist Church and Trinity Methodist Church in April 2016. It was recognised that there are now many people living on the Island – and in Douglas in particular – for whom English is not their first language. It was also felt that learning English may be difficult for some of them because of social isolation, and they may not be able to afford lessons at the college. The sessions are free, so that no-one will be excluded on financial grounds – even the tea coffee and biscuits will be free (but donations would be appreciated!).
It is held in Promenade Methodist Church Top Lounge or Coffee Lounge from 10.30 to 11.30 on Saturday mornings. It started on the 15th October.
Cafe Lingo is run by a team of volunteers, several of whom are retired teachers, and led by Karen Norton, a retired deputy headteacher, specialising in special needs and literacy who has completed a TEFL (Teaching English as a Foreign Language) course funded by Promenade Methodist Church. All the volunteers have been DBS checked and undergo training in Safeguarding and basic TEFL.
Although Cafe Lingo is an outreach project of the church, it is not aimed at converting people. Its aim is to "Welcome the Stranger" and to help them learn English in a relaxed and friendly environment.
Cafe Lingo has the backing of the Douglas Churches Town Centre Partnership, the One World Centre, the Fishermen's Mission Isle of Man and the Isle of Man United Nations Association. It seeks to partner with anyone of goodwill concerned for the well being of newcomers to the Island. So far, the response to Cafe Lingo has been amazing, with lots of offers of help in various ways. For example, some have helped with publicity, translations, assisted with IT or sorted and cleared a space for Cafe Lingo at the Prom, staff from Barclay's Wealth offering to redecorate the area of the church where Cafe Lingo will meet.
Anyone interested in volunteering or in attending the sessions can contact Karen Norton on 458340, or via the Facebook page.