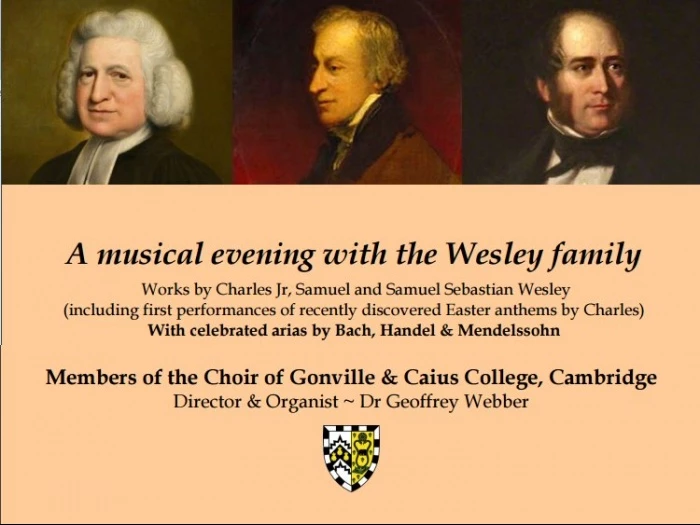 A Musical Evening with the Wesley Family
The famous Choir of Caius College, Cambridge performed a series of concerts throughout the Isle of Man, in early July, with daily concerts from Monday, July 4th to Saturday, July 9th in Castletown, Peel, Malew, Douglas, Laxey and Ramsey. Each concert contained a different programme.
The Choir is well known internationally for their beautiful and often ground-breaking CDs, and under their renowned Director of Music, Dr Geoffrey Webber, who directs the Choir, and also plays the Organ, they presented a fascinating "Musical Evening with the Wesley Family" – music by Charles, Jr, Samuel, and Samuel Sebastian, whose music is still frequently performed in Cathedrals and Churches throughout the world. There was also be music by Bach, Handel and Mendelssohn.
The real bonus for the Isle of Man is the first performance since the early 1800s of a series of fifteen Easter Anthems, written by Charles, Jr., and only recently discovered by the Wesley Scholar, John Nightingale, in the dusty vaults of the British Library, where the original hand-written manuscripts have only recently come to light. Each concert showcased some of these florid and extended anthems, so the whole series was heard across the six concerts.
It is rare that newly discovered music from such a well-known source as the Wesley family comes to light, and reaches the performance stage in the hands of such accomplished singers as the Caius Choir, all Choral Scholars at Cambridge University.
The Caius Choir last came to the Island a few years ago, when the Manx student, David Ballantyne, was Organ Scholar at Caius College. Their highly acclaimed visit left audiences with the hope that they might return, so the long wait will be ended in July.