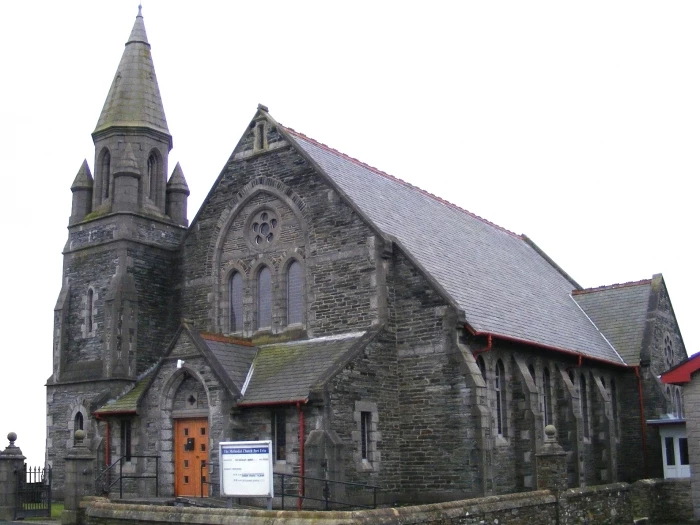 The congregation of Port Erin Methodist Church are planning to move, but we are not going far... just next door in fact!! The Church Council has agreed plans to put the main church building on the market and redevelop part of the adjacent church premises as a modern and versatile worship and community space.
After much prayer, discussion and heart searching as to our mission and vision for Port Erin Methodist Church, we realise that the main church building is now too large for our needs and the maintenance costs are beyond the resources of our average congregation of around 28-30.
Opened in 1903, the main building on the corner of Station Road and Droghadfayle Road was built to replace the original Primitive Methodist Chapel on Dandy Hill which had grown too small for the congregation. In the early 20thcentury the population of Port Erin was growing and also greatly increased during the summer in the heyday of village tourism, many people joining services in the local churches. The 1903 church building was designed to take a congregation of just over 200 at a time when such numbers could be expected.
As well as being a worshipping community in our own right, we have strong ecumenical connections and involvement in community support and the premises are used by a large number of local groups. The Church Council decided that the future for our worshipping community should be at the heart of Port Erin, continuing to witness and be involved with community activities.
Linked to the main church buildings is a hall and series of rooms used for meetings, occasional café church worship and by the local community. The plan is to combine some of the smaller rooms into a worship space, create a new accessible entrance whilst still providing the hall for community bookings. The sale of the chapel will hopefully be used to fund the development of the premises and their fitting out.
So, when you see that the 'For Sale' sign has gone up, don't be surprised and don't think that the Methodists in Port Erin are closing down. We're not : we're moving on!
If you would like to view the 1903 building, please contact Black Grace Cowley Commercial Sales on 645555.
If you're interested in being part of the future of the Methodist community in Port Erin please contact our minister, Rev. Sean Turner on 621968.